---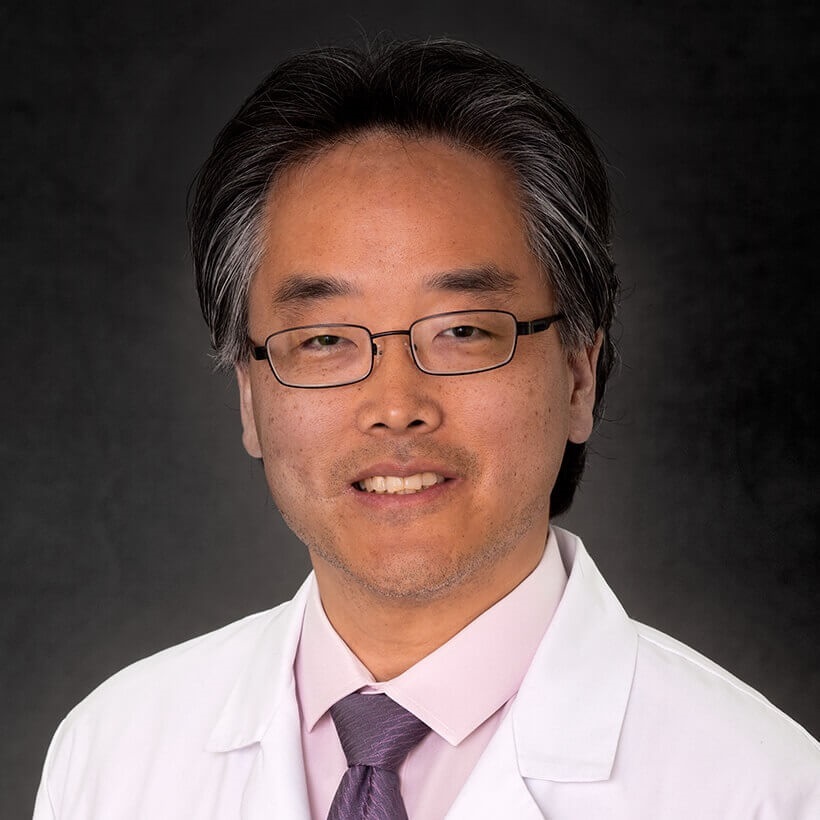 I promise to all of my patients an open, compassionate discussion about all topics related to cancer and together formulation of the best individualized treatment plan.
Location

Chicago
Specialties

Medical Oncology
Education

Medical school:


University of Miami Miller School of Medicine, Miami, FL

Residency:


Internal Medicine - University of Utah School of Medicine, Salt Lake City

Fellowship:


Infectious Disease, Hematology/Oncology & Microbiology/Immunology, University of Miami Miller School of Medicine
Certifications

Medical Oncology - American Board of Internal Medicine
Infectious Diseases - American Board of Internal Medicine
Internal Medicine - American Board of Internal Medicine
Dr. Eugene Ahn, MD, first dreamed of finding a cure for cancer when he was 5 years old. "My father was a hematologist/oncologist, and I always had a strong desire to improve our understanding and treatment of cancer," says Dr. Ahn, Medical Director of Clinical Research at Cancer Treatment Centers of America ® (CTCA), Chicago, which is located between the Chicago and Milwaukee metro areas.

Dr. Ahn earned his Bachelor of Arts degree in Biology at Yale University in 1993. He completed his Doctor of Medicine degree at the University of Miami in 1997. His postgraduate training, from 1997 to 2007, included a residency in internal medicine at the University of Utah, fellowships in infectious disease and hematology/oncology at the University Miami, and a National Institutes of Health-funded research fellowship in microbiology/immunology.

From 2007 to 2014, he served as faculty at the same institution, and as Assistant Professor, he was the principal investigator on numerous clinical trials focused on improving the treatment of breast cancer and other diseases. His work is published in renowned journals, including Breast Cancer Research and Treatment, Clinical Breast Cancer and Genomics. In 2016, Chicago Magazine named him to Chicago's Top Cancer Doctors list for Medical Oncology. In 2017, he was elected by his peers to a three-year term on the board for The Society for Integrative Oncology.

Dr. Ahn recommends complementing conventional treatment plans with patient-preferred mind-body interventions to enhance immunity through innate biological pathways called "psychoneuroimmunology." Research has shown that mind-body interventions enhance such conventional cancer treatments as surgery, chemotherapy or radiation therapy by improving dose tolerance and ability to complete therapy, quality of life and, in some studies, enhance cure rates.

"Ultimately, I joined CTCA® because they have been delivering for decades this type of integrative care to every patient that is seen here, and I'm excited for the unlimited possibilities we can build here by continuing to offer and further innovate this integrative approach," says Dr. Ahn.

Licensed to practice medicine by the State of Florida and Illinois, Dr. Ahn is board certified in Medical Oncology, Infectious Diseases and Internal Medicine by the American Board of Internal Medicine.

He will also serve as CTCA Chicago's Medical Director for Clinical Research (in Integrative Oncology) to enhance the clinical research portfolio at CTCA. He has particular interest in studying the most active ingredients of an integrative oncology approach.

When he is not at CTCA, Dr. Ahn enjoys spending time with his wife and newborn girl, playing piano and guitar, and exploring the beautiful outdoors.
Patient ratings

The patient ratings and comments on this page are obtained from an external Press Ganey® outpatient survey provided to all eligible CTCA patients within one to two weeks of their treatment occurance. Raw data from the answers to the survey questions about our physicians are calculated by Press Ganey into a one- to five- star rating. In the spirit of transparency, all patient comments are posted as written by the patient, whether they are positive or negative. We only exclude comments if they are deemed to be slanderous or libelous, contain profanity or vulgar language, or do not relate to the patient's experience with the doctor involved. As a result, the comments are the views and opinions of the patients surveyed and are not endorsed by, and may not necessarily reflect the opinion of, CTCA.
About Our Ratings
May 23, 2019

5.0

"Absolutely wonderful care and very knowledgeable"
May 14, 2019

5.0

"I have 2 neighbors I tell them they need to come here. One is in stage [...] , and the other one is stage [...] breast cancer."
May 7, 2019

3.8

"Dr Ahn was very attentive and sincere. He provided practical solutions for the concerns I presented."
May 6, 2019

5.0

"Dr. Ahn was amazing-very good at explanations, and providing me with articles to read regarding treatment options. Once he understood that I was willing and able to do extra things, he encouraged me to continue exercising through all of my treatments. I have been blessed to be one of his patients!"
May 5, 2019

5.0

"I completely trust Dr. Ahn and his staff to know and recommend the best treatment for me. I would definitely recommend him to others in my situation."
Apr 30, 2019

5.0

"very personable. I felt listened to & heard"
Apr 30, 2019

5.0

"Wonderful physician. Honest, caring and knowledgeable. Patient centered treatment. Easy to talk to and understand."
Apr 30, 2019

1.9

"very rushed and frazzled. commented how busy he was since colleague retired. Big change since I first began treatment at CTCA."
Apr 29, 2019

5.0

"*Dr. Ahn is knowledgeable in the medical field yet very personable. he NEVER rushed us with all our questions. This is a man you would want on your side when facing cancer. He is a gift and I highly recommend him!"
Apr 28, 2019

3.8

"this was the first time meeting Dr. Ahn"
Apr 22, 2019

5.0

"*Dr. Ahm was professional and caring. I appreciated his obvious concern with my well being."
Apr 11, 2019

5.0

"my oncologist is awesome any questions or concerns that I had he was more than willing to take the time to answer them"
Apr 10, 2019

5.0

"He is the best. Would not go to anyone else."
Apr 7, 2019

5.0

"The new one is amazing! my first one ,Was not a good fit for me. my answers are for my new one."
Apr 2, 2019

5.0

"I feel like *Dr. Ann is the BEST. He is so smart & kind & we felt like he truly cares for his patients!!!"
Apr 1, 2019

5.0

"Dr. Ahn is the best I have ever dealt with. I trust and respect him with my care. Great Doc... I recommend him to everyone I know going through breast cancer"
Apr 1, 2019

5.0

"Completely. Dr Ahn was all a Dr should be!"
Mar 26, 2019

5.0

"Dr Ahn was excellent and spent a lot of time with us."
Mar 13, 2019

5.0

"I would recommend Dr. Ahn to anyone. He is great!"
Mar 5, 2019

5.0

"only doctor I love and trust this much!"
Mar 4, 2019

5.0

"I have a new oncologist, Dr. Ahn. And he is wonderful!!"
Feb 21, 2019

5.0

"Dr Ahn is an amazing doctor. His knowledge of the disease is widespread. He is always well versed on any new treatment or studies that have come out. He always makes sure I understand the treatment and always answers every question."
Feb 13, 2019

5.0

"Bravo Dr. Ahn. you are an amazing man. He spent time explaining everything. He truly cares for his patients. Thank you for being awesome."
Feb 12, 2019

5.0

"very pleased with Dr. Ahn and his staff"
Jan 30, 2019

5.0

"Dr Ahn and [...] have been extremely helpful, professional and showing wonderful compassion, integrity, and professionalism throughout this journey. They are the best of the best! I could not be more pleased and confident throughout the process, only because of these two wonderful Physicians."
Jan 29, 2019

5.0

"Dr Ahn is very straight forward and compassionate. He took time to be sure my feelings and daughters were at ease. He helped me understand options and his sense of urgency was great."
Jan 27, 2019

5.0

"I love Dr. Eugene Ahn,my oncologist. He listens to me. I already tell everyone I know with cancer to go to ctca."
Jan 22, 2019

5.0

"Keep up great job."
Jan 22, 2019

5.0

"Dr. Ahn is a blessing & anything I send an email with a question or concern he and/or his team gets back to me promptly. I appreciate his concern."
Jan 22, 2019

5.0

"Dr. Ahn is brilliant and compassionate."
Jan 17, 2019

5.0

"My doctor is excellent! He always listens and gives great advice. He is very caring and dedicated to my treatment and well-being."
Jan 14, 2019

5.0

"I always compliment CTCA on my care to others!"
Jan 11, 2019

3.8

"personable and likeable. impressed with his knowledge and caring manner"
Jan 7, 2019

5.0

"Dr. Ahn is extremely caring and knowledgeable. I would highly recommend him."
Jan 2, 2019

5.0

"Dr Ahn and I have had our differences. but I respect his medical opinion and knowledge. I feel I am in good hands."
Dec 26, 2018

5.0

"We just love Dr. Ahn's bedside manner and his thoroughness. He tries to give us his time and answers our questions."
Dec 2, 2018

5.0

"very caring, listens and answers all my questions."
Nov 14, 2018

4.4

"My favorite thing about my Oncologist is his patience. He does not seem in a rush, and always has given me time to address every issue I have had."
Nov 7, 2018

5.0

"I am almost finished with my treatments. I have been pleased with Dr Ahn from the beginning. He has been concerned throughout, giving me the time I needed to make decisions and answering my questions ( I had many). I am very pleased with the treatment I have received from him. I haven't been the easiest patient and for the most part he kept his patience with me. I am grateful to have him as my doctor."
Oct 30, 2018

5.0

"Always talking and referring this wonderful place to others!"
Oct 16, 2018

5.0

"Dr Ahn is a GREAT doc. his expertise and treatment options are well thought out and explained in a way that gave us confidence that he was on track giving us great care!"
Oct 16, 2018

5.0

"Dr. Ahn is the ultimate Oncologist. I feel so comfortable with him. i"
Oct 10, 2018

5.0

"Dr Ahn is wonderful!! Very caring, thorough. takes time to talk about concerns and questions. I trust him completely. I would recommend CTCA and Dr Ahn to all."
Oct 3, 2018

5.0

"Dr. Ahn is top notch. I have never had so much confidence in a doctor."
Sep 19, 2018

5.0

"*Dr. Ahn answers all of my questions and is kind & compassionate. I don't always feel like getting individualized treatment. I didn't feel like I was believed when I described my post [...]symptoms."
Sep 19, 2018

5.0

"the comfort and security I have and believe in this facility, and ALL the staff. the peace of mind this place gives us is unbelievable. words just can't describe."
Sep 8, 2018

5.0

"Dr. Eugene Ahn is a wonderful, intelligent sweet man. I would give him a 20 if I could."
Sep 6, 2018

3.8

"Dr Ahn seemed extremely competent, knowledegable and supportive."
Aug 26, 2018

4.4

"Dr Ahn has accommodated my requests and I appreciate that. I believe he is very knowledgeable in the field of cancer."
Jul 31, 2018

4.4

"Dr Ahn seems knowledgeable, approachable and available for questions between visits"
Jul 28, 2018

5.0

"Dr.Ahn is the most caring doctor ive ever had. he explains everything and really takes his time during your appointment to make sure all questions have been answered."
Jul 24, 2018

5.0

"Dr. Ahn is very nice"
Jul 22, 2018

5.0

"Dr. Ahn and [...] ..were quite thorough. They had awesome bedside manner. They answered questions, got back timely, they are compassionate, concerned, and caring and they communicated honestly! This was my 1st hospital experience and they went over me like I was a treasure to insure EVERYTHING was ok...not spot treatment."
Jul 21, 2018

5.0

"*Dr. Ahn is the best! As we said in our letter, his kind - compassionate & professional approach - made us feel so - safe & we knew we would be cared for in every way - His assistant [...] is excellent as well. - All of their staff are awesome as well. We love coming & know it's the best place for us to be! #1. Excellent. #2. Have already."
Jul 20, 2018

5.0

"I cannot speak highly enough about my doctor. *Dr. Ahn is amazing. He stood up for ME. I have never seen a place like this before! I have the BEST "dr."."
Jul 10, 2018

5.0

"He has stood by me through all treatment. Concern, kindness, and patience has far exceeded expectations. i came to CTCA because of Dr Ahn."
Jul 7, 2018

5.0

"DrAhn has an amazing way of making me feel like family, like he really does care for me!"
Jul 4, 2018

5.0

"Dr Ahn was very thorough sat with us for as long as necessary answered our questions and gave alot of information that I needed and that helped me make my decision to begin treatment"
Jun 26, 2018

5.0

"Dr Ahn is phenomenal. He is the reason I come to ctca."
Jun 14, 2018

5.0

"My Oncologist was the one who gave me the most confidence, information and direction. I did not feel like I was "part of a study" or "Just another breast patient" or "low risk, low attention". His attention to my case was evident in the answers to my questions. . . they were not generalized or maybe's because he did not read my file. He did know the details -- that was important."
Jun 14, 2018

5.0

"Dr. Ahn is fantastic, extremely knowledgeable and compassionate."
Jun 13, 2018

5.0

"Dr. Ahn is an outstanding doctor... patient, great listener and always up on the latest research data. Is able to communicate medical information in an understandable way without talking down to the patient"