---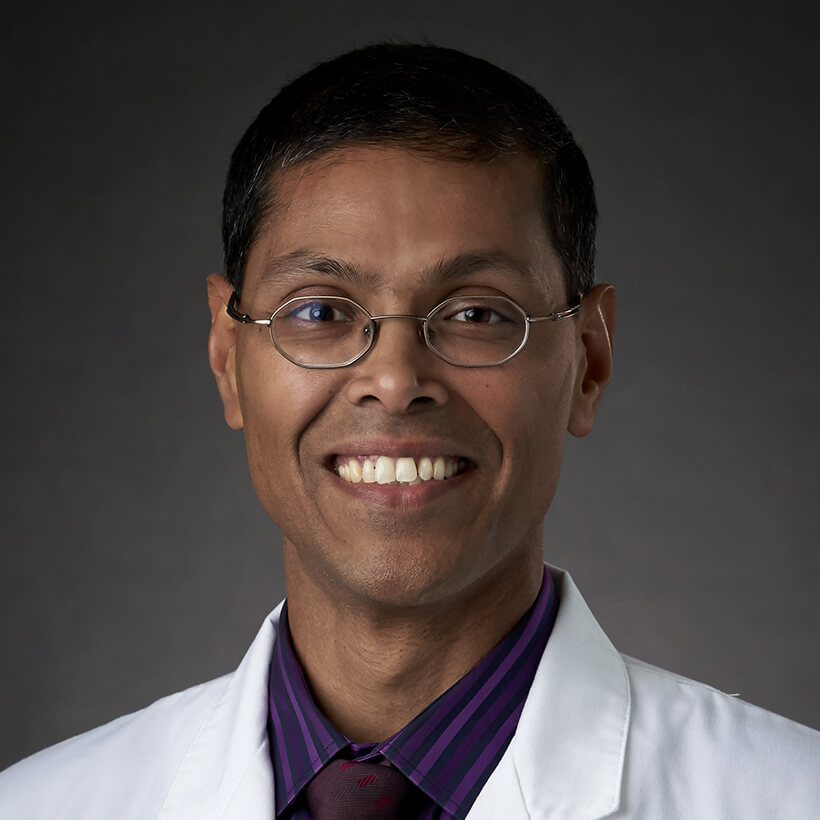 The mentality of truly putting the patient first is very unique at Cancer Treatment Centers of America. The doctors and supporting staff go above and beyond to do whatever is needed to take care of patients.
Location

CTCA Atlanta
Specialties

Medical Oncology
Education

Medical school:

Doctor of Osteopathic Medicine – Kansas City University of Medicine and Biosciences, Kansas City, MO

Residency:


Internal Medicine – Genesys Regional Medical Center (Ascension), Grand Blanc, MI

Fellowship:

Medical Oncology – Oklahoma State University/CTCA, Tulsa
Certifications

Medical Oncology - American Osteopathic Board of Internal Medicine
Internal Medicine - American Osteopathic Board of Internal Medicine
"The patient-centered approach at Cancer Treatment Centers of America® (CTCA) is truly unique and special. Having all the specialties and supportive staff under one roof is like nothing I've ever seen before," says Dr. Shahin Chowdhury, medical oncologist at CTCA® Atlanta.

Dr. Chowdhury earned a Doctor of Osteopathic Medicine degree from Kansas City University of Medicine and Biosciences in Kansas City, Missouri. He then completed an internal medicine internship and residency at Genesys Regional Medical Center in Grand Blanc, Missouri.

He earned a bachelor's degree in biology from Dana College in Blair, Nebraska, where he graduated magna cum laude. He also earned another bachelor's degree in physician assistant studies from Wichita State University in Wichita, Kansas.

Before joining CTCA, Dr. Chowdhury spent five years as a staff hospitalist in Rowlett, Texas. He then moved to Tulsa in 2011 to complete a medical oncology fellowship at CTCA Tulsa (through Oklahoma State University), where he was Chief Fellow in his last year.

In July 2013, Dr. Chowdhury officially started working as a medical oncologist at our hospital in Tulsa. The following year, he joined CTCA in Atlanta. His areas of focus are gastrointestinal and genitourinary cancers.

Since joining CTCA, he says: "At CTCA, I am able to coordinate appointments and ideas with other physicians who are all available under one roof. There have been multiple times where I've had a question or needed assistance, and everyone I need to speak with is available to assist me when needed. Most importantly, having everyone under one roof enables us to deliver integrated services and provide answers to patients quickly."

Dr. Chowdhury belongs to several professional organizations, including the American Society of Clinical Oncology, the American Osteopathic Association and the American College of Osteopathic Internists.

Dr. Chowdhury is an avid soccer player and fan, and enjoys hiking, sightseeing and wildlife. He and his wife, Farrah, a pharmacist, have two sons.
Patient ratings

The patient ratings and comments on this page are obtained from an external Press Ganey® outpatient survey provided to all eligible CTCA patients within one to two weeks of their treatment occurrence. Raw data from the answers to the survey questions about our physicians are calculated by Press Ganey into a one- to five- star rating. In the spirit of transparency, all patient comments are posted as written by the patient, whether they are positive or negative. We only exclude comments if they are deemed to be slanderous or libelous, contain profanity or vulgar language, or do not relate to the patient's experience with the doctor involved. As a result, the comments are the views and opinions of the patients surveyed and are not endorsed by, and may not necessarily reflect the opinion of, CTCA.
About Our Ratings
Dec 3, 2019

5.0

"Oncologist listened to all my concerns and responded with answers and support I needed"
Nov 26, 2019

5.0

"Love The Staff they listen and took time with me I felt very comfortable."
Nov 21, 2019

5.0

"Very Professional and straight forward."
Nov 15, 2019

0.6

"during last visit did not read file before coming in poor explanation and answer to questions"
Nov 7, 2019

5.0

"dr chowdhry and staff is the best"
Nov 6, 2019

5.0

"It's comforting that Dr Chowdry took the time to get to know me and my children. I was never just another face coming through. He remembered me after [...] years."
Nov 5, 2019

5.0

"One of the best"
Oct 9, 2019

5.0

"I really like my oncologist he explains things well and I feel like he cares for his patients"
Oct 3, 2019

5.0

"I would recommend my oncologist to everyone"
Oct 2, 2019

5.0

"Dr Chowdhury is an excellent provider. Very engaging and empathetic"
Sep 24, 2019

5.0

"Awsome. Knowledgeable. Gives me options on my continuing care."
Sep 19, 2019

5.0

"*Dr. Shahin A. Chowdhury MD is the very best doctor. Such an informed, jovial, pleasant and concern medical oncologist. He has confidently care about my medical ordeal. I thank God for his wisdom!!"
Sep 18, 2019

5.0

"My oncologist is very professional & compassionate & caring & truly cares about how my treatments benefit me & my overall health, I would definitely recommend him to others Dr. Chowdhury & his previous team were all wonderful! I don't know the two "new" nurses I saw this past visit, hopefully they work out, they were ok, however his previous nurses on my previous visits were outstanding"
Sep 10, 2019

3.8

"I don't normally see my records. I asked for a disk and the paperwork for my latest CT scan and saw on there that an ultrasound and MRI were suggested. My oncologist never even mentioned that. If I hadn't requested these items, I wouldn't even know that I am supposed to get these. :-("
Sep 2, 2019

5.0

"Dr. Chowdhury is one of the best oncologist that I've ever had! He definitely takes the time needed to explain any treatment process that's to be utilized."
Aug 28, 2019

5.0

"Great"
Aug 28, 2019

5.0

"very nice and answered all questions"
Aug 28, 2019

5.0

"He is always so cheerful and upbeat."
Jul 19, 2019

5.0

"Dr. Chowdhury continues to provide me with support and hope and the tools to help me through my journey."
Jun 30, 2019

3.8

"Don't tell you the consequences or what to expect from treatment. only said his hair would fall out."
Jun 18, 2019

5.0

"very friendly and professional, takes his time and discuss positive and negatives with recommendations"
Jun 11, 2019

5.0

"Listen to your concerns"
May 22, 2019

5.0

"he is the best doctor ever with his support and my family they kept my spirits high"
May 14, 2019

5.0

"Love how he explained everything and includes me and my family in on the decision to my treatment"
May 2, 2019

3.8

"Dr. Chaudary was an excellent listener. I was disappointed that CTCA Atlanta did not have options other than what I was offered locally for my pancreatic cancer. [...]"
Apr 28, 2019

5.0

"He took his time and explained everything to me and made me feel comfortable about taking the treatment."
Apr 8, 2019

5.0

"Dr Chowdury is very through a great Dr!"
Mar 25, 2019

5.0

"he was very thorough to explain the treatment plan & help us understand. the staff was always helpful kind even when we called after returning back to our home state."
Mar 21, 2019

5.0

"Very caring & professional."
Feb 26, 2019

3.8

"intelligent and helpful"
Feb 25, 2019

5.0

"couldn't ask for a better doctor he always makes me feel good love him"
Feb 19, 2019

5.0

"He is wonderful."
Feb 10, 2019

0.0

"I was transferred to *Dr. Chowdhury after my initial oncologist *[...] moved. *Dr. Chowdhury was dismissive and superficial about my overall health and well-being. His apathetic behavior was distasteful."
Jan 30, 2019

5.0

"love, Dr. Chowdry"
Jan 24, 2019

5.0

"Dr. Chowdhury explains so well your condition, the treatment to follow and is respectful with the concerns of the family. He makes sure you understand him and takes the time to do so."
Jan 22, 2019

5.0

"my medical oncologist is the best. he is so down to earth. he can really explain things were you can really understanding."