---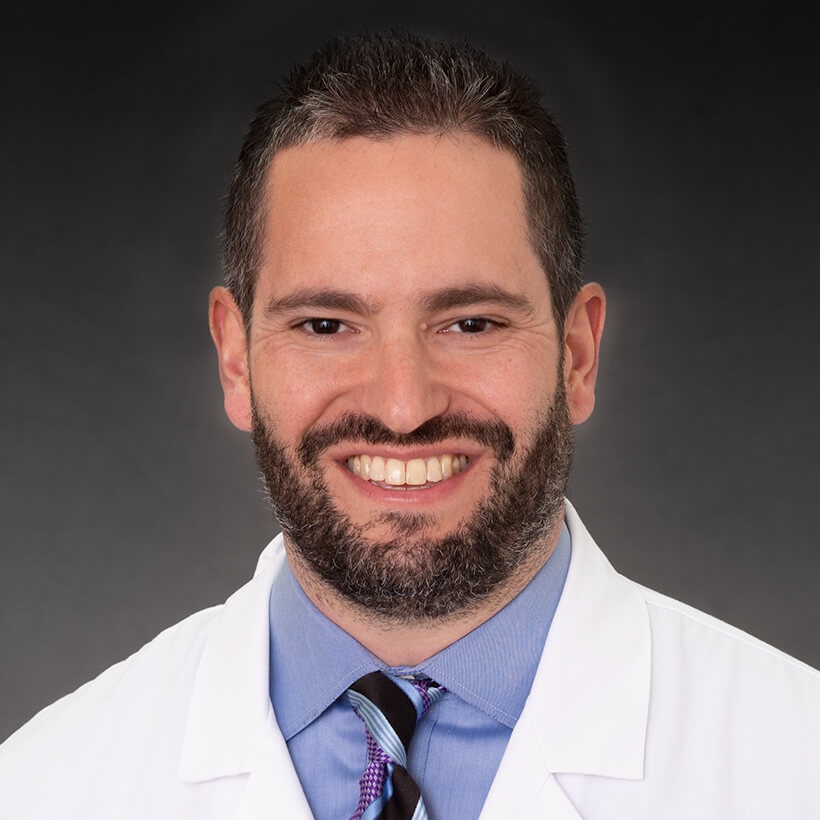 I am proud to serve cancer patients and their families at Cancer Treatment Centers of America® . I strive to provide the best care possible.
Location

Chicago
Specialties

Medical Oncology
Education

Medical school:


Boston University School of Medicine, Boston, MA

Residency:


Internal Medicine - Mount Sinai Medical Center, New York, NY

Fellowship:


Hematology & Oncology, Tufts Medical Center, Boston, MA
Certifications

Medical Oncology & Hematology - American Board of Internal Medicine
Evan Pisick, MD, believes it's important for cancer patients and their loved ones to learn as much as they can about the disease. The medical oncologist talks with his patients about their diagnosis and treatment and encourages them to ask questions. He analyzes each patient's test results, takes detailed notes on their medical history and performs thorough physical examinations. These are some of the critical steps he must take in order to determine the most appropriate treatment options for each of his patients.Board certified in medical oncology and hematology, Dr. Pisick practiced medical oncology and hematology with DuPage Medical Group in Naperville, Illinois, before joining Cancer Treatment Centers of America® (CTCA) in 2008.

After completing a bachelor's degree in biology at the University of Rochester, he earned a medical degree from Boston University. Thereafter, Dr. Pisick completed an internship and residency at Mount Sinai Medical Center in New York City, followed by a fellowship at Tufts Medical Center in Boston.

Dr. Pisick has researched and written extensively on small cell and non-small lung cancer, as well as malignant mesothelioma. His work has been published in a variety of scientific journals, including Hematology/Oncology Clinics of North America, Anticancer Research and the Journal of Experimental Therapeutics and Oncology. Early in his career, Dr. Pisick was a research technician at the Dana-Farber Cancer Institute.

He has been a member of both the Association of Pathology Chairs Pathology Honor Society and Alpha Omega Alpha, a national honor society for medical students.
Patient ratings

The patient ratings and comments on this page are obtained from an external Press Ganey® outpatient survey provided to all eligible CTCA patients within one to two weeks of their treatment occurance. Raw data from the answers to the survey questions about our physicians are calculated by Press Ganey into a one- to five- star rating. In the spirit of transparency, all patient comments are posted as written by the patient, whether they are positive or negative. We only exclude comments if they are deemed to be slanderous or libelous, contain profanity or vulgar language, or do not relate to the patient's experience with the doctor involved. As a result, the comments are the views and opinions of the patients surveyed and are not endorsed by, and may not necessarily reflect the opinion of, CTCA.
About Our Ratings
May 22, 2019

5.0

"Recommended numerous times."
May 18, 2019

5.0

"very helpful and I will always appreciated everything"
May 15, 2019

5.0

"I tell everyone about your place that's great"
May 14, 2019

5.0

"I've already made two referrals and I've only been to CTCA three times"
May 8, 2019

2.5

"This was my first meeting with Dr. Pisek so I'm not able, as yet, to rate him any higher or lower than fair"
May 7, 2019

5.0

"Knowledgeable, compassionate, caring. Actually cares."
May 7, 2019

5.0

"The best! *Dr. Pisick is great!"
May 7, 2019

5.0

"Wonderful Doctor and person!"
May 5, 2019

5.0

"I recommend Dr. Pisick to everyone I can."
May 3, 2019

5.0

"easy to talk to"
May 2, 2019

2.5

"not very thorough in explaining the drug injected and some ancillary information that would help the duration of the procedure."
Apr 30, 2019

5.0

"great"
Apr 30, 2019

5.0

"love the time Dr Piske spends with me"
Apr 30, 2019

5.0

"very pleased"
Apr 24, 2019

3.8

"I was just transferred to a new Oncologist, so I have only met him. My previous Oncologist was awesome, but he has retired."
Apr 24, 2019

5.0

"[...] and I have confidence in Dr. Pisick."
Apr 23, 2019

5.0

"this was a follow up appointment. he is wonderful in explaining"
Apr 16, 2019

5.0

"Dr Piscik is an excellent Doctor"
Apr 13, 2019

5.0

"explains all options for going forward and if there are options explains each where I or we can understand them."
Apr 10, 2019

5.0

"very high confidence in Dr. Pisick's technical capabilities, his intents, and his advocacy for me as a patient."
Apr 9, 2019

5.0

"Dr. Pisek was very friendly, he explained all options. and answered all questions, treated us like people not like a disease or a number."
Mar 30, 2019

5.0

"All procedures and expectations explained to me in detail"
Mar 27, 2019

5.0

"assuring"
Mar 26, 2019

2.5

"I was disappointed that although recommended I was never given a PET scan. In addition I feel that my cares and concerns are not being treated seriously."
Mar 26, 2019

5.0

"the best"
Mar 22, 2019

5.0

"sharp guy doesn't try to kill you off. very concerned about my general health always open to listening."
Mar 20, 2019

5.0

"Dr Piseck has my complete confidencecame to clinic over 6 yrs ago and will continue as long as Piseck there."
Mar 8, 2019

5.0

"*Dr. Pisick and his team have answered all questions we could think of and many we couldn't."
Feb 27, 2019

5.0

"Evan Pisick is wonderful and I trust him wholeheartedly! I would recommend him to anyone. He saved my life!"
Feb 24, 2019

5.0

"Dr. Pisick fully answered my questions and concerns, even though it took quite a bit of his time."
Feb 21, 2019

1.9

"Really disappointed when Dr. Pisick said there was nothing else they could do for me there. But fax me a list of possible clinical trials elsewhere in the US to try to get into. Also told me to reach out to Top [...] Centers who deal with rare cancers like mine; [...] I haven't had any luck finding another trial yet."
Feb 20, 2019

5.0

"Dr Pisick ... would not have been here now if it was not for his Knowledge and caring ! there are no words enough to express how I feel."
Feb 14, 2019

5.0

"*Evan Pisick is an excellent oncologist. He addresses all my questions and needs."
Feb 14, 2019

5.0

"He offered all the time needed by us to answer any & all questions. Nice to be considered important."
Feb 1, 2019

5.0

"Dr. Pisick is unbelievably knowledgable in his field and imparts a very calm, caring feeling to me."
Jan 29, 2019

5.0

"He was our second opinion and he brought up so much more reasons why we should go with the treatment he suggested. we are VERY happy with him"
Jan 22, 2019

5.0

"I won't get nervous as long as Dr Pisick doesn't get nervous"
Jan 22, 2019

5.0

"good"
Jan 16, 2019

5.0

"He will be the best dr. you could have. (Tell other people.)"
Jan 15, 2019

5.0

"No problems"
Jan 2, 2019

5.0

"100%"
Jan 1, 2019

5.0

"Dr.Pisick is a fabulous oncologist he doesn't rush you and takes time to listen and answer any questions you may have"
Dec 28, 2018

5.0

"2. "I DO" _____."
Dec 20, 2018

2.5

"dr Pisick was ok just very clinical. I called to get my questions answered by Care management"
Dec 19, 2018

5.0

"explains everthing well"
Dec 19, 2018

5.0

"world class"
Dec 11, 2018

5.0

"Dr. Pisick is wonderful, friendly and informative. [...]"
Dec 4, 2018

3.8

"We believe Dr. Pisick is very competent. However, his facts-and-data / scientific approach by itself does not tend to build hope or encouragement. He did, however, assure us that he would be our advocate which we believe was 100% sincere and much appreciated by us."
Nov 30, 2018

5.0

"*Dr. Evan Pisick and his staff are awesome!"
Nov 28, 2018

5.0

"Dr. recommended support group for survivors."
Oct 26, 2018

5.0

"Took care of me in a timely manner."
Oct 18, 2018

5.0

"Informative, with straight answers, and was told what I could expect down the road."
Oct 16, 2018

5.0

"Explained everything in manner that I could understand without all the medical terms."
Oct 14, 2018

5.0

"I have already recommended this facility to several friends"
Oct 14, 2018

5.0

"dr picek is the best"
Oct 13, 2018

5.0

"he is knowledgeable, helpful, patient and understanding"
Oct 10, 2018

5.0

"I adore my Oncologist. He is the best."
Oct 9, 2018

5.0

"He was very informative and answered all of our questions."
Oct 9, 2018

5.0

"explain every thing I had told my experience friends family"
Oct 8, 2018

5.0

"explained prognosis and future treatment very well."
Oct 5, 2018

5.0

"AWESOME!"
Oct 3, 2018

3.8

"just wish there was more time spent with me for what I pay!!!!!!!!!!!"
Sep 30, 2018

5.0

"Personable. Excellent discussion of options. Made me confident in the staff and system as a whole."
Sep 28, 2018

5.0

"I have known Dr. Evan Pisick for about 6 years. We have developed a very good relationship and I have a lot of confidence in his knowledge of the medical topics we discuss."
Sep 26, 2018

5.0

"Really like Dr. Pisick"
Sep 18, 2018

5.0

"*Dr. Pisick was very friendly, personable, informative straight-forward with information I needed to make the best decision. *Dr. Pisick very knowledgeable, patient, very kind, sympathetic, encouraging and reassuring. All of my concnerns were addressed."
Sep 5, 2018

3.8

"we had a nice visit, hoping for a different outcome"
Sep 4, 2018

5.0

"Take his time to talk through scans and my options. Listens to concerns me & husband have."
Aug 21, 2018

5.0

"You are the man *Dr. Pisick!!"
Aug 12, 2018

5.0

"*Dr. Pisick is outstanding & I thank God I am blessed to have him managing my cancer treatment - cheerful & upbeat to keep spirits up."
Aug 5, 2018

5.0

"We have recommended CTCA to folks we have met with cancer, esp. when the outlook seems grim. We are very pleased!"
Jul 26, 2018

5.0

"all my questions get answered"
Jul 24, 2018

5.0

"Dr. Pisick is an amazing man. He is kind hearted and genuine. I am thankful you have such a great facility."
Jul 24, 2018

5.0

"My follow up visit was excellent. Dr. Pisick is an excellent oncologist."
Jul 21, 2018

5.0

"dr evan is just as terrific"
Jul 18, 2018

5.0

"He is very professional."
Jul 10, 2018

5.0

"*Dr. Pisick doesn't give up! He keeps up with trials and treatments. He is straight forward with his diagnosis and plans - Good or bad"
Jul 10, 2018

5.0

"Dr. Piscak is a saint!!! He like family to us!!"
Jul 10, 2018

3.8

"I am ecstatic I am doing so well. The check up by the oncologist was very quick. I feel he could have take a little more time to check vitals and discuss long-range outcomes."
Jul 10, 2018

5.0

"we have recommended to several people"
Jul 6, 2018

5.0

"Dr. Pisick and CTCA are the very Best !!"
Jul 5, 2018

5.0

"I tell everyone to come there"
Jul 1, 2018

5.0

"dr pisick is a fantastic doctor"
Jul 1, 2018

5.0

"Provides appropriate information and answers questions with the appropriate technical specificity to the patients capability to understand the information."
Jun 29, 2018

4.4

"Personable & straight forward."
Jun 26, 2018

5.0

"excellent"
Jun 26, 2018

5.0

"has to be the best around"
Jun 25, 2018

5.0

"Dr.Pisick is great"
Jun 25, 2018

5.0

"I don't believe there are any other oncologists that even come close to the level of knowledge in his field and caring for the patient as well as Dr. Pisick and his team does."
Jun 23, 2018

5.0

"I LOVE *Dr. Pisick!! I know as long as I have him on my team if there's a way, I will continue to live a happy long life."
Jun 22, 2018

5.0

"Dr. Pisick is amazing."
Jun 19, 2018

5.0

"Dr Pisick is so caring and always treats you as if you are his family member"
Jun 19, 2018

3.8

"I think that he has a myopic view towards treatment inasmuch as he exhibits an interest/ concern only re treatment just for the "named" cancer disorder. here appears to be a reluctance to even address any symptoms which might be "related" to the treated cancer. Particularly, when the exhibited painful symptoms are located in the treated cancer area. I think that the oncologist is probably effective for caring for me as it relates to the designated cancer"
Jun 19, 2018

5.0

"I have never had any doubts in my care teams over the years. Dr. Pisick has a winning approach, with next steps planned if the need arises."