Pancreatic cancer survival statistics and results
At Cancer Treatment Centers of America® (CTCA), we understand that you may want to see information regarding the survival results of patients with distant (also referred to as metastatic) pancreatic cancer who were diagnosed and/or at least initially partly treated at our hospitals to help you and your family decide where to go for treatment, as part of many other factors you may be considering. Therefore, we asked an independent biostatistician to analyze the survival results of CTCA® patients.
Statistical methodology and limitations
Qualifications of the independent researchers
The chart below reflects the CTCA and SEER survival rates for pancreatic cancer patients with distant (metastatic) disease who were diagnosed between 2000 and 2015. It includes estimates of the percentage of pancreatic cancer patients with distant disease who survived for six months to five years after the initial diagnosis, as recorded in the CTCA and SEER databases.
This analysis included pancreatic cancer patients from CTCA who had primary tumor sites (as coded by ICD-O-2 (1973+) from C250 to C254 or from C257 to C259, were diagnosed from 2000 to 2015 (including 2000 and 2015) and received at least part of their initial course of treatment at CTCA. All patients included in the analysis were considered analytic patients by CTCA.
Pancreatic cancer patients with distant (metastatic) disease from the SEER database and pancreatic cancer patients with distant (metastatic) disease from the CTCA database were included in the analysis. In addition, the analysis excluded patients whose medical records were missing any of the following information:
SEER Summary Stages
Primary tumor sites
Cancer histologic types
Date of initial diagnosis
Age at initial diagnosis
Gender
Race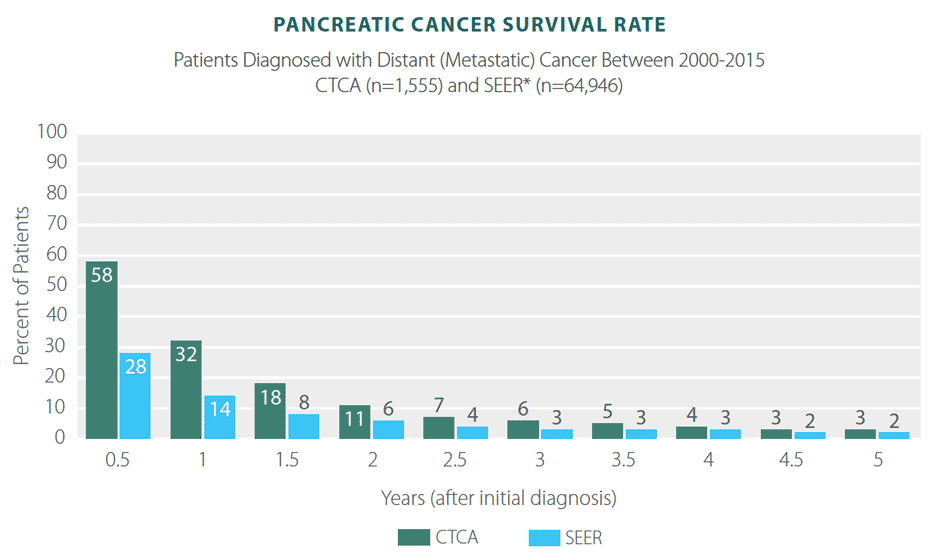 *The SEER data represent national results over a large number of institutions and have been included for illustrative purposes. They are not intended to represent a controlled study and/or a perfect analysis of the CTCA data because of variability in the sample sizes of the two databases, the clinical condition(s) of the patients treated, and other factors.
The CTCA sample is relatively small because only metastatic pancreatic cancer patients who had been initially diagnosed at CTCA and/or received at least part of their initial course of treatment at CTCA were included. These factors significantly reduced the size of the CTCA sample, which means that the estimates reflected in the survival chart may be subject to high variation and may not be replicated in the future when we have a larger CTCA sample for analysis.
For a full, technical explanation of the methodology used in the analyses and a detailed description of the CTCA and SEER patient groups included, click here to view statistical methodology, and for more information about the SEER program, go to seer.cancer.gov.
We also want to be sure you understand that cancer is a complex disease and each person's medical condition is different; therefore, CTCA makes no claims about the efficacy of specific treatments, the delivery of care, nor the meaning of the CTCA and SEER analyses. Not all cancer patients who are treated at a CTCA hospital may experience these same results.