Assessment background and methodology
Cancer Treatment Centers of America® (CTCA) was among the first U.S. cancer hospitals to use quality-of-life metrics as part of its routine assessment of patient well-being and quality of care. Research demonstrates Patient Self-Reported Outcome (PRSO) data are a valuable part of a patient's treatment plan. Several studies validate the potential of routine assessment data in improving both the precision and degree of patient-centered care—making sure the right care is delivered to the right patients at the right time. The benefits of PRSO data not only include better health-related quality of life and fewer emergency room visits, but also improvements in health service outcomes and survival.®1,2,3
CTCA® patients self-report their symptoms and quality of life concerns as part of our patient evaluation process. This process includes a symptom assessment, called the Symptom Inventory Tool (SIT), that patients complete in correspondence with their treatment cycle, not more frequently than every 21 days. Upon arrival, patients complete the electronically administered SIT using a tablet computer. CTCA team members use these results as part of their patient assessment and evaluation process. These two complementary processes (patient self-assessment and reflection, and analyzing the data as a starting point for discussion) assure that CTCA care teams may more readily identify when patients may benefit from referral and/or more directed intervention to help them cope with their symptoms, side effects and quality of life concerns. This data also exists in real-time within the electronic health record. More than 94 percent of patients voluntarily participate in the SIT assessments.
The SIT includes 27 items: 13 core symptom questions (box 1) and six questions related to issues that interfere with patients' everyday functioning (box 2). These 19 questions mirror the MD Anderson Symptom Inventory (MDASI) tool used by many U.S. hospitals. MDASI, which assesses both the severity and impact of patients' symptoms and quality of life issues, has been psychometrically validated and tested. It is also endorsed by the National Cancer Institute. CTCA has added eight questions to the patient assessment process that our medical and care teams consider clinically relevant (box 3).
| Box 1: Core Symptoms | Box 2: Interference Issues | Box 3: Additional Areas of Focus |
| --- | --- | --- |
| Pain, Fatigue, Nausea, Disturbed Sleep, Distress, Shortness of Breath, Memory, Appetite, Drowsy, Dry Mouth, Sadness, Vomiting, Numbness | General Activity, Mood, Work, Relationships, Walking, Enjoyment of Life | Constipation, Swelling, Mouth Soreness, Bleeding, Sexual Interest, Family Response, Sense of Hope, Quality of Life |
The graphs below illustrate CTCA patients' self-reported symptom burden for nine key areas by type of cancer for patients at their new patient evaluation (baseline) in comparison to their next return visit when scoring a particular symptom or activity area as severe at baseline. For patients with severe baseline scores (seven or greater on a one to 10 scale with one being "non-existent" and 10 being "as bad as one can imagine/greatly interfered"), a two-point change in score is clinically relevant and significant with respect to the symptom getting better, remaining constant or getting worse. Data reflects more than 9,220 patients completing a second return assessment from baseline between July 1, 2016, and June 30, 2018, with 2,417 deemed severe.
Quality of life results by cancer type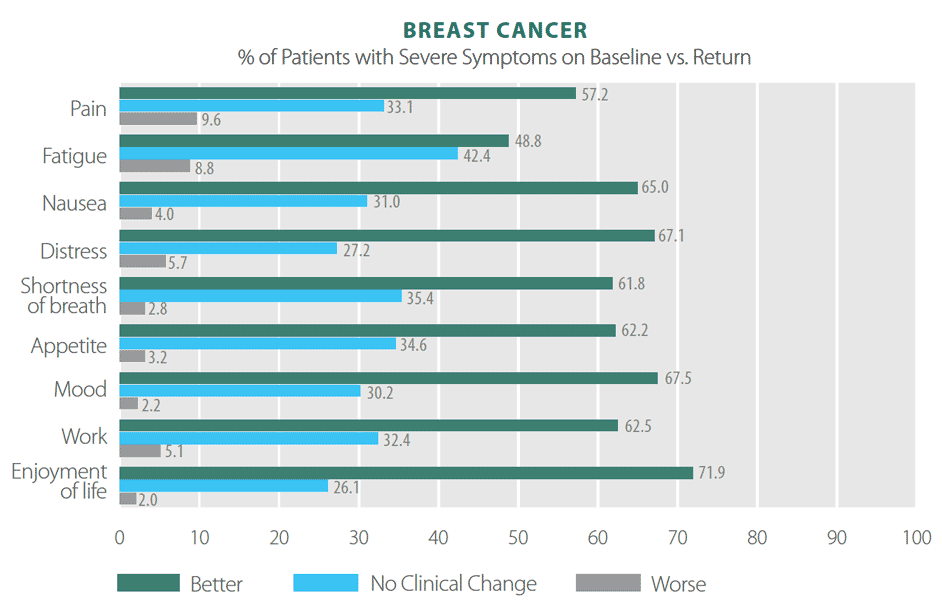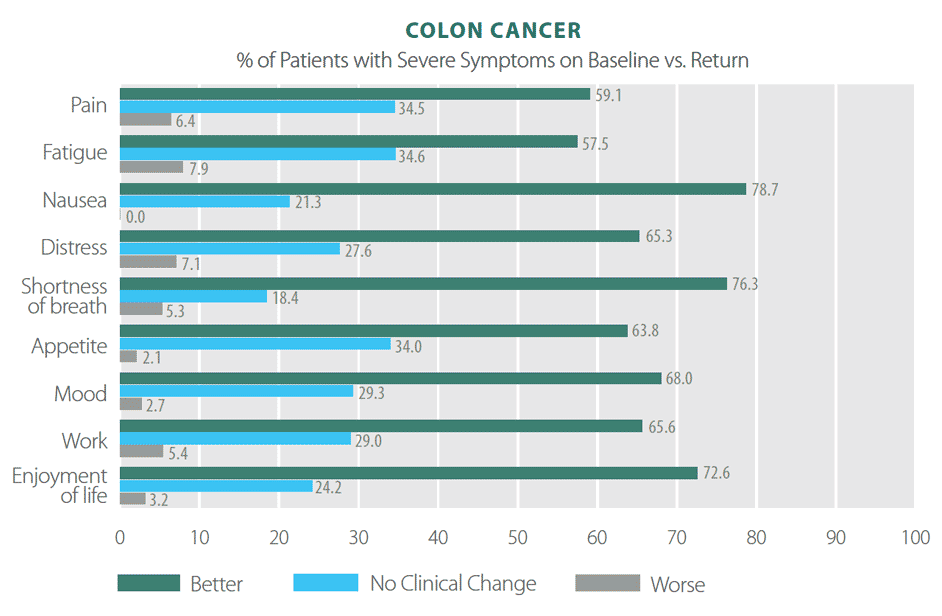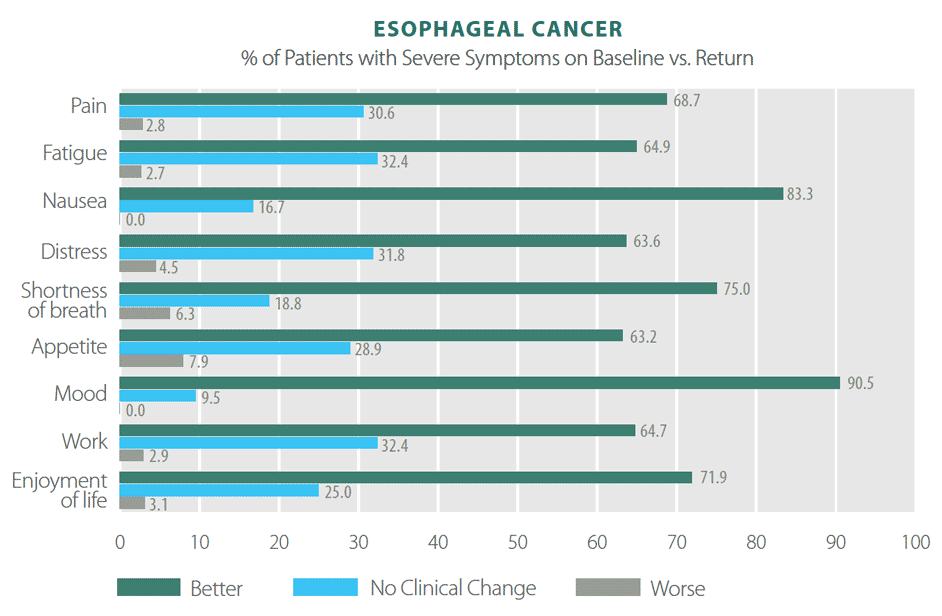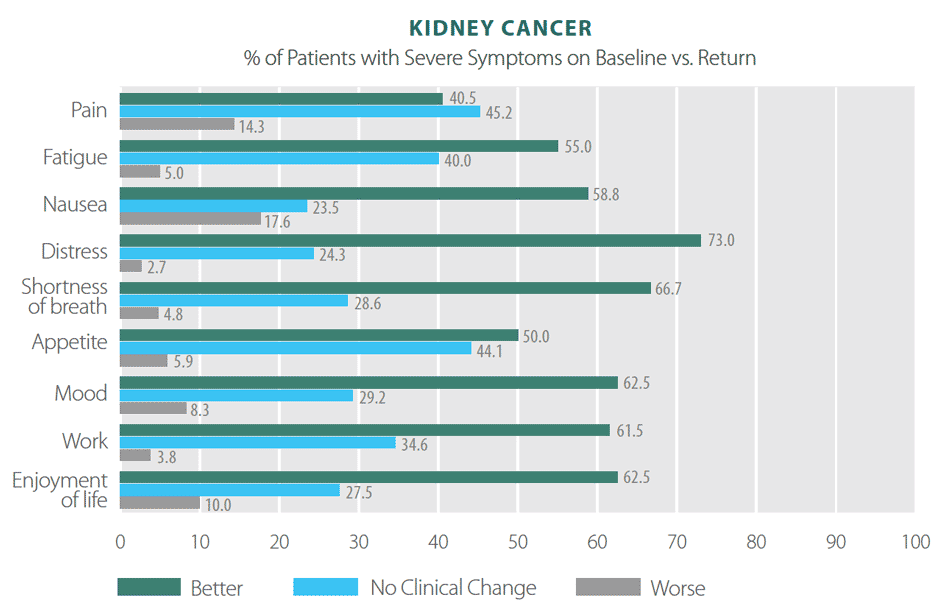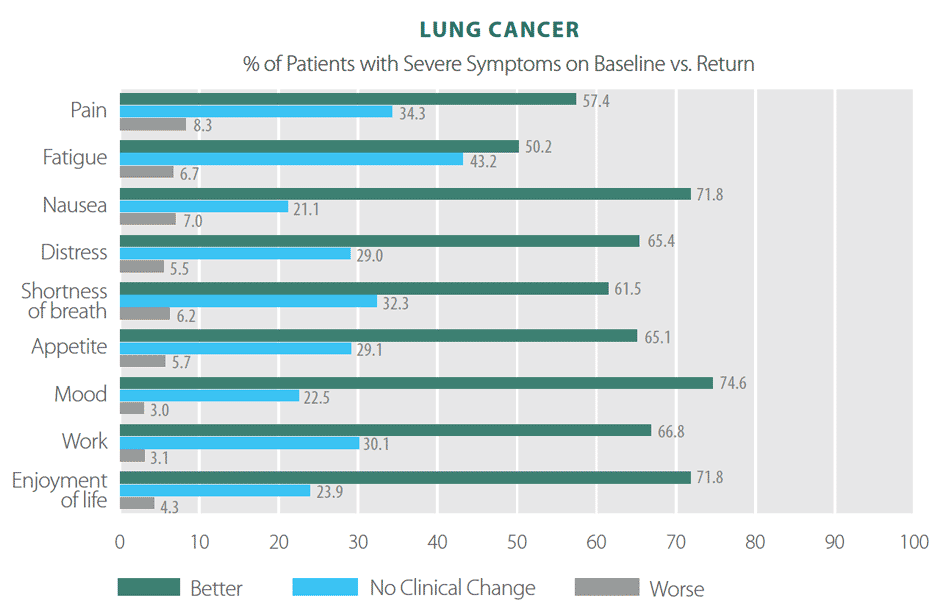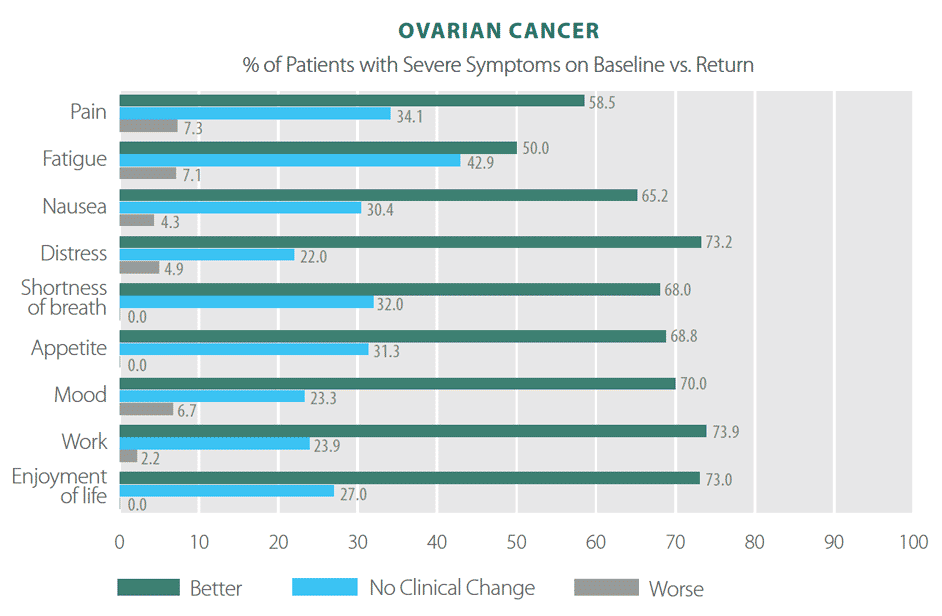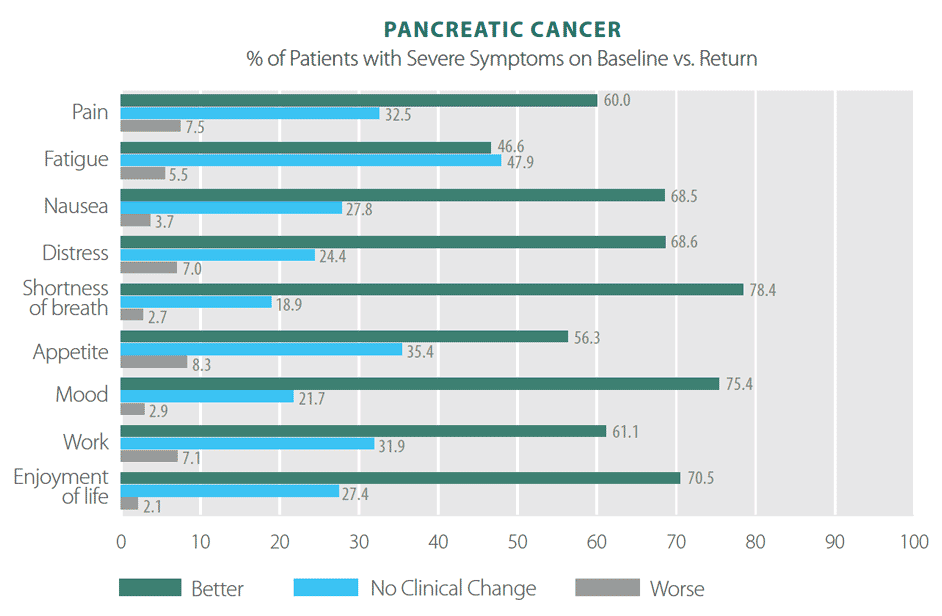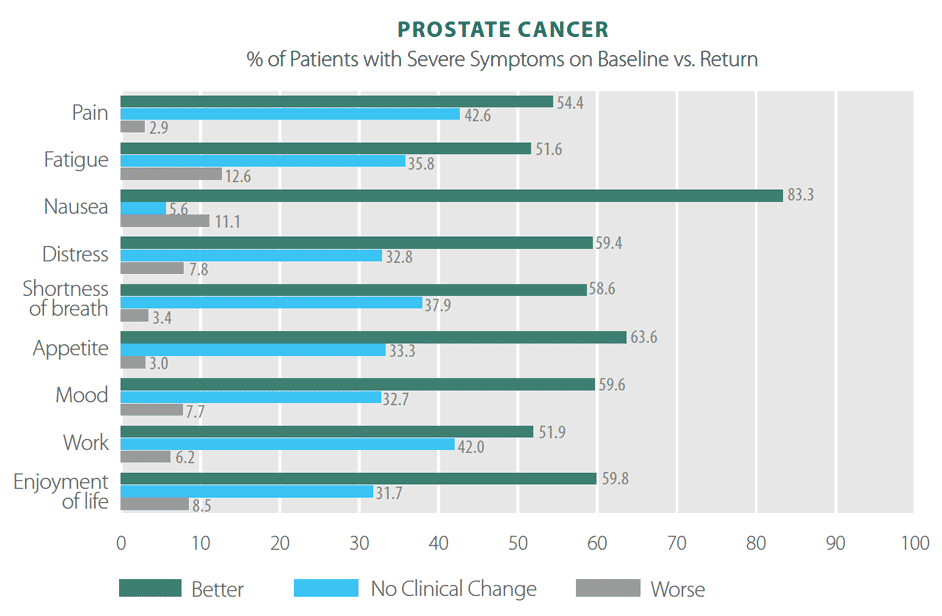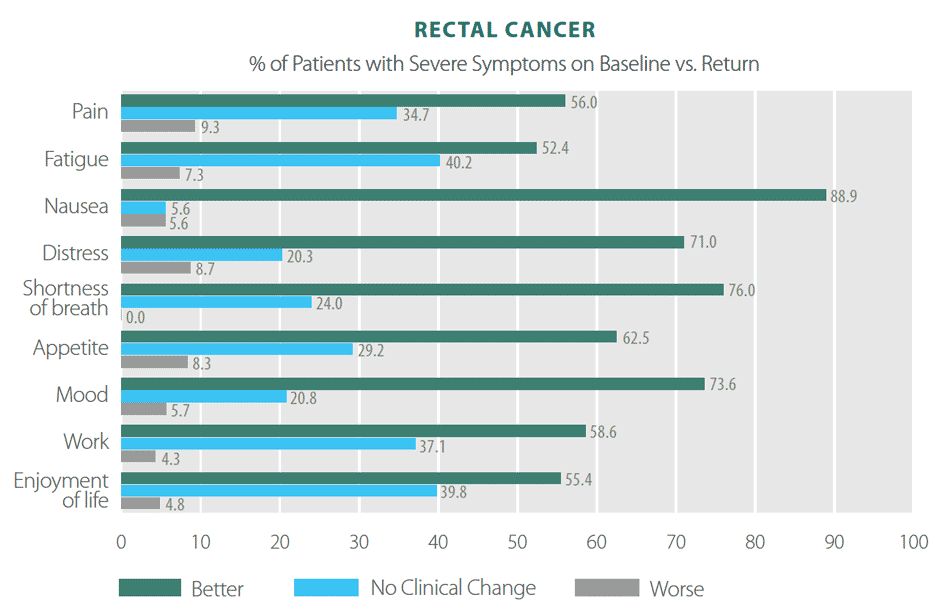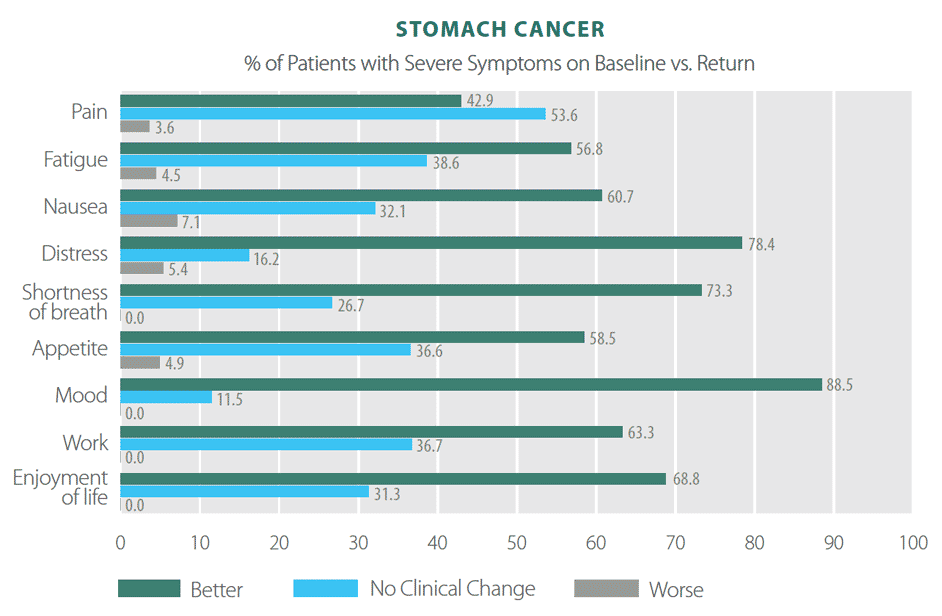 Quality of life in aggregate and by facility
The following graphs reflect CTCA aggregate, as well as facility PSRO data for four key areas related to our ability to treat our patients' symptoms between July 1, 2015, and June 30, 2017.