Our philosophy and methodology
Collaborative, reliable processes and systems
At Cancer Treatment Centers of America® (CTCA), quality care does not simply happen. It is built and nurtured. Quality is the outcome of a set of consciously designed, reliable procedures and systems that connect people, processes, knowledge and technology in the delivery of high-quality, safe care. The CTCA® quality program is grounded in the following principles:
Collaborative partnerships across CTCA are essential to individual and collective improvement.
Improvement and clinical innovation is achieved through the conscious deployment of methodologies, technologies and tools.
Evidence-informed practice, guidelines and/or expert opinion are central to learning and transferring knowledge.
Providers and patients alike are empowered to serve as champions for improvement.
CTCA uses the six aims of the Institute of Medicine (IOM) as a framework for our definition of quality care. According to these six aims, health care should be:
Safe: Avoid injuries to patients from the care intended to help them.
Effective: Base patient services on scientific, evidence-informed knowledge of the benefits.
Patient-centered: Provide care in a respectful manner that is responsive to individual preferences, needs and values.
Timely: Reduce waits and delays for both those who receive and those who give care.
Efficient: Avoid waste, including waste of equipment, supplies, ideas and energy.
Equitable: Be consistent in the quality of care, which should not vary due to individual differences, such as gender, age, race/ethnicity, geographic location or socio-economic status.
Safety, our first commitment
The We ARE (Accountable, Reliable and Empowered) Safe initiative establishes a framework to create a culture of safety for CTCA patients. As an organization committed to eliminating preventable harm through the detection and correction of system weaknesses, we have implemented high-reliability strategies, such as self-checking (Stop-Think-Act-Review), peer checking, communication tools (Situation-Background-Assessment-Recommendation), Leader Rounding and Daily Safety Check-ins. In this effort, CTCA has engaged Healthcare Performance Improvement (HPI), a national leader in patient safety, which works with more than 600 hospitals across the United States. Further, CTCA is committed to the National Patient Safety Goals established by The Joint Commission, which accredits more than 19,000 health care organizations and programs nationally.
To assess our success in establishing a culture committed to patient safety, CTCA hospitals use the Agency for Healthcare Research and Quality (AHRQ) Hospital Survey on the Culture of Patient Safety, a validated staff survey considered among the top-cited and most well-respected instruments in the country. On average, more than 700 hospitals use the instrument annually, constituting a comparative data set of more than 447,000 responses. Conducting the survey 24 months and contributing to the national database, the most recent Patient Safety Grades for CTCA hospitals are presented below in comparison to the AHRQ 2016 national norms for nine key dimensions.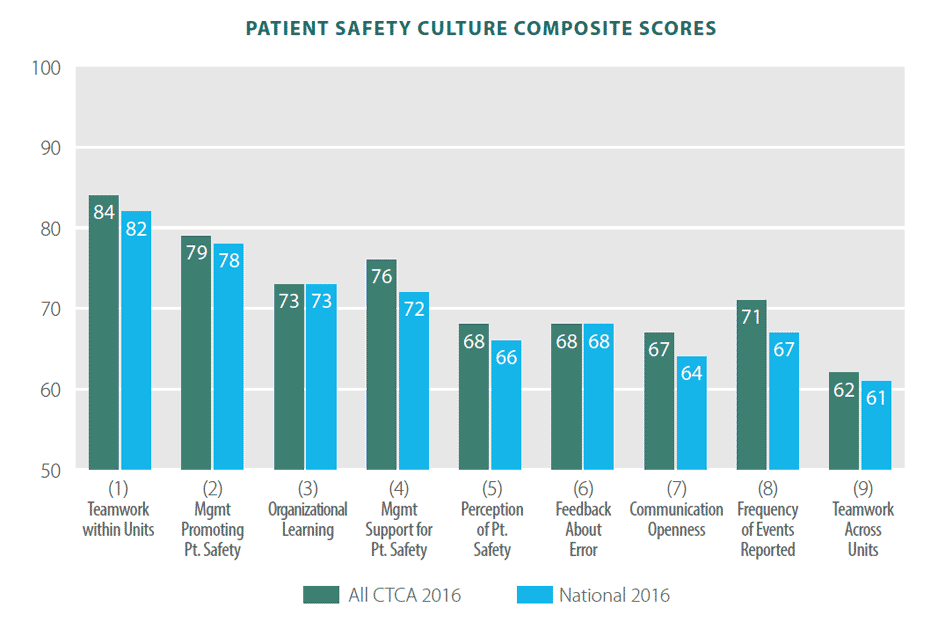 Graph labels
Questions included in patient safety culture composite scores
(1) Teamwork within units

People support one another
We work together as a team
Treat each other with respect
When busy, others help out
(2) Supervisor/Manager expectations & actions promoting patient safety

Says a good word when a job is done according to safety procedures
Considers staff suggestions for improving patient safety
Wants us to work faster, even if it means taking shortcuts*
(3) Organizational learning - Continuous improvement

We are actively doing things to improve patient safety
Mistakes have led to positive changes here
After we make changes to improve patient safety, we evaluate their effectiveness
(4) Management support for patient safety

Management provides climate that promotes patient safety
Management shows that safety is priority
Management interested in safety only after adverse event*
(5) Overall perceptions for patient safety

Just by chance serious mistakes don't happen*
Safety is never sacrificed to get more work done
We have patient safety problems in this unit*
Procedures and systems good at preventing errors
(6) Feedback & communication about error

Given feedback about changes on event reports
Informed about errors in units
Discuss ways to prevent errors again
(7) Communication openness

Staff speak up if something affects patient care
Staff questions those with more authority
Staff are afraid to ask questions*
(8) Frequency of events reported

Mistake made, but caught, how often reported
Mistake made, but no potential to harm, how often reported
Mistake made could harm, but does not, how often reported
(9) Teamwork across units

Hospital units do not coordinate well with each other*
There is good cooperation among hospital units that need to work together
It is often unpleasant to work with staff from other hospital units*
Hospital units work well together to provide the best care for patients
Ongoing measurement through a quality dashboard
Using robust data from external and internal sources, information is leveraged across CTCA hospitals to drive performance. Although not an exact match to publicly reported data, more timely internal data creates transparency at all organizational levels and supports real-time improvement. Through a dashboard approach, CTCA continuously monitors and assesses a variety of metrics related to the IOM aims with respect to care outcomes, processes and structures. The list of metrics changes constantly as CTCA views the metrics of interest from multiple angles, including those of our clinicians, the boards of directors of the CTCA hospitals, the employer and payer communities and patients. The following measures are examples of our current focus areas:
Infection prevention
The prevention of hospital-acquired infections is a national priority. CTCA conducts Central Line Associated Bloodstream Infection (CLABSI) and Catheter Associated Urinary Tract Infection (CAUTI) surveillance in all inpatient care areas using surveillance definitions from the Centers for Disease Control and Prevention National Healthcare Safety Network. CTCA has implemented a number of CLABSI and CAUTI prevention efforts to reduce the number of infections and sustain evidence-informed practices for central line and urinary catheter insertion and maintenance as evidenced by our performance.


Inpatient complications, length of stay and safety
CTCA hospitals use Crimson Continuum of Care (CCC) software, an industry-leading solution, to aggregate our source system data to produce meaningful metrics, providing visibility into our coded data for purposes of benchmarking and supporting improvement. The CCC database has more than 1,000 hospital members and represents around one-third of all inpatient admissions in the United States. The tool uses a severity-adjusted methodology based on the 3M™ All Patients Refined Diagnosis Related Groups (APR DRG) grouper to compare only clinically relevant cases.
The inpatient complications of care rate depicts the percentage of inpatient cases with a complication code, excluding complications that were already present on admission (POA) or related to pre-existing conditions upon admission to the hospital. By excluding complications that were POA, this measure provides results that more directly reflect quality of care. These codes are useful for screening for adverse events that patients experience as a result of exposure to the health care system, which are likely amenable to prevention by changes at the system or provider level. CTCA continues to take appropriate action to ensure our patients are provided safe and high-quality care at all times.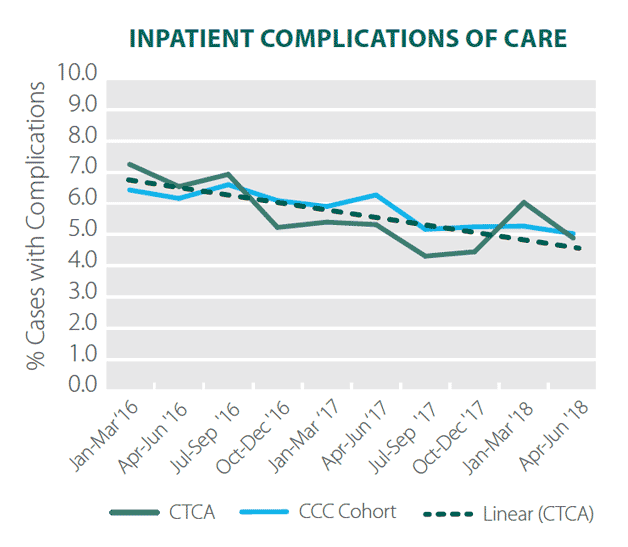 The average length of stay displays the average length of stay for an inpatient admission. Monitoring trends and improving processes related to management of patients have reduced the number of days our patients stay in the hospital without sacrificing quality or patient safety.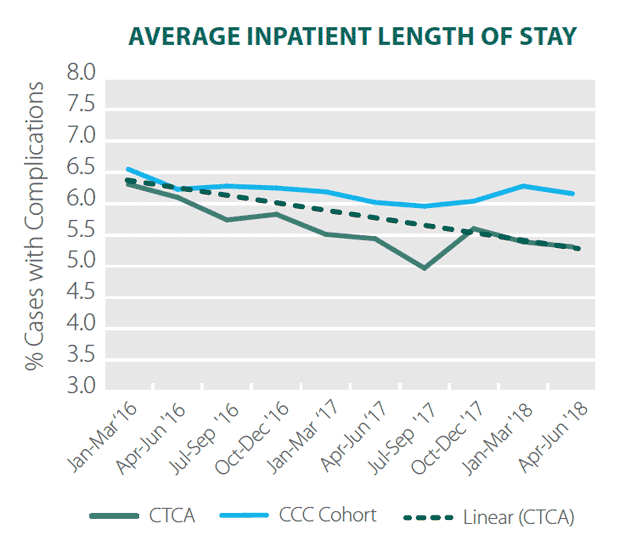 The Patient Safety and Adverse Events Composite, known as PSI 90, is an updated and modified version of the Patient Safety Indicator for Selected Indicators Quality Indicator Composite. This composite score provides an overview of hospital-level quality as it relates to a set of potentially preventable hospital-related events associated with harmful outcomes for patients. Included in this measure are events such as developing a stage three or four pressure ulcer, postoperative hemorrhage and postoperative sepsis. Our commitment to safety and eliminating patient harm has led to an overall reduction in our composite score.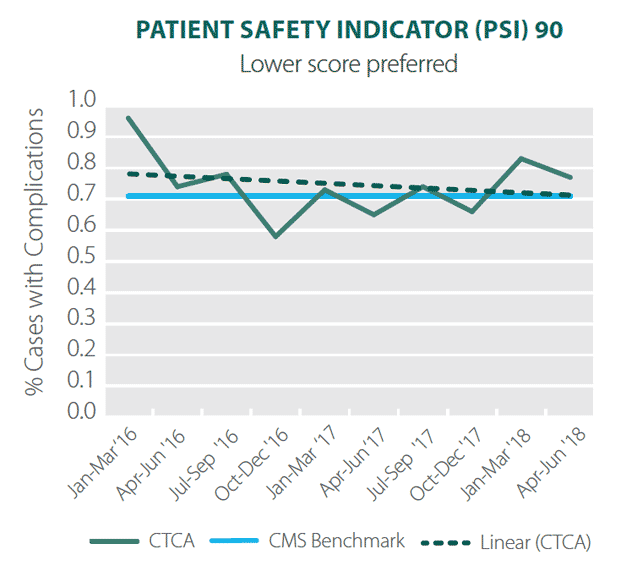 Medication safety
Medication management technologies, if implemented correctly, may greatly reduce the likelihood of errors in the prescribing and administering process. Two such methodologies used by CTCA hospitals include Computerized Provider Order Entry (CPOE) and Bar Code Medication Administration (BCMA). The use of a CPOE system may significantly reduce errors related to handwriting or transcription. BCMA by nursing at the point-of-care ensures that patients are receiving the correct medications at the correct time by electronically validating and documenting medications using scanning technology. CTCA monitoring of BCMA includes all locations where medications are administered, with the exception of surgery and interventional radiology, where sterile fields may be in place.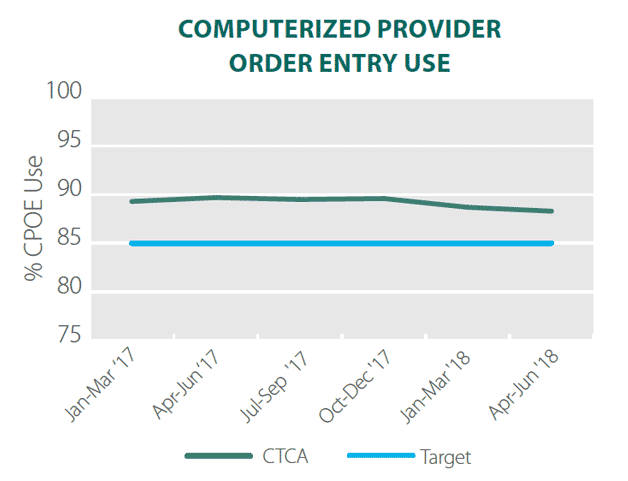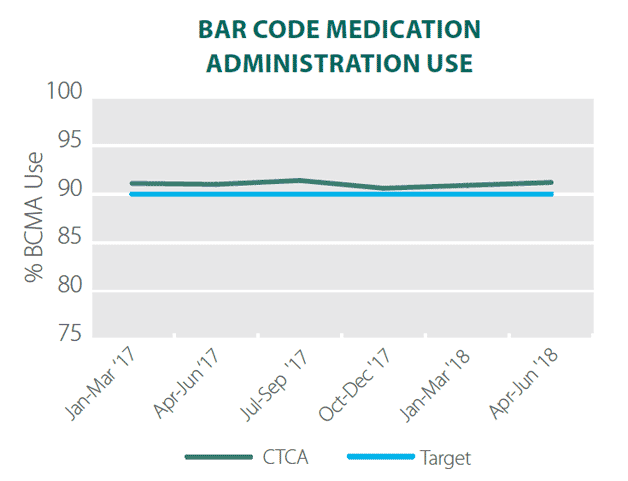 Nursing-sensitive indicators
CTCA utilizes numerous nursing-sensitive indicators to assess for patient safety and quality. Two measures monitored include patient falls and hospital acquired pressure ulcers (HAPU). CTCA continuously assesses risk for falling and puts into place prevention efforts to keep each patient safe. The pressure ulcer metric explores the relationship between nursing assessments performed, interventions used and pressure ulcer development. The development of a HAPU places the patient at risk for other adverse events and increases resource consumption and health care costs. In most at-risk patients, interventions to reduce pressure and shear, and to mitigate other patient risk factors (immobility, incontinence, impaired nutrition, etc.) will decrease development. CTCA targets a rate of "0" for both metrics - striving for no pressure ulcers or falls occurring in our facilities.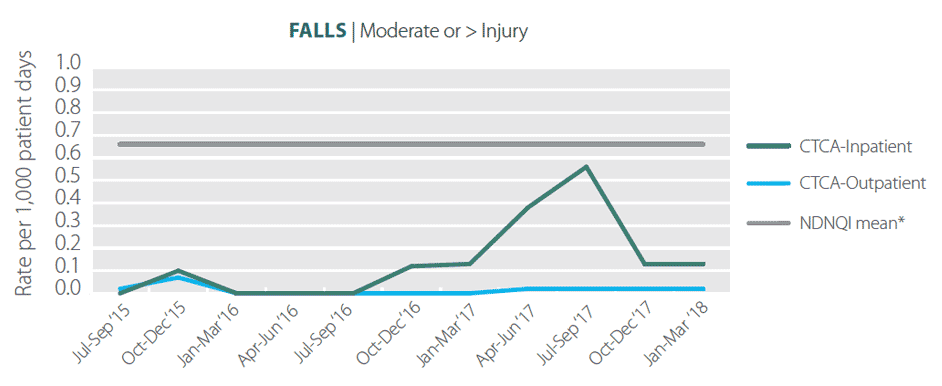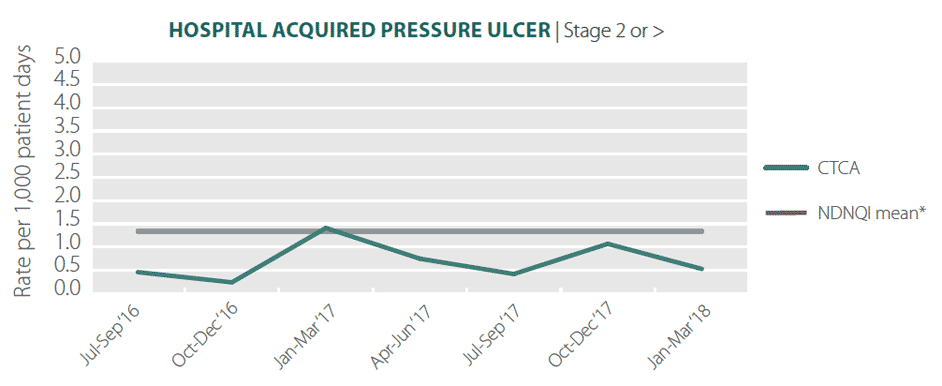 Quality Oncology Practice Initiative (QOPI)
In response to the IOM report that identified major gaps in both quality and safety of patient care, the American Society of Clinical Oncology (ASCO) created the Quality Oncology Practice Initiative (QOPI) launched in 2006. Developed under the guidance of an expert panel of oncologists, the program provides a process for standardized assessment of care and reliable information to help focus improvement activities. Currently, approximately 1,000 U.S.-based oncology practices are registered in QOPI of which just over 300 are certified. All five CTCA hospitals have achieved and now maintain QOPI certification.
Oncology practices that wish to achieve a three-year certification from QOPI must meet stringent criteria. This begins with an assessment of performance against 28 quality metrics calculating a composite overall score and by submitting data on 170+ measures. To achieve QOPI certification, a practice must achieve an overall quality score of 75 percent or higher and comply with 28 safety standards. QOPI measures fall into the following categories: core, disease-specific and domain-specific. Core measures include areas such as staging, pathology testing and pain. Domain-specific measures include symptom management and care at the end of life. Disease-specific modules include breast, colorectal and non-small cell lung cancer. The chart below reflects performance for the most current data submission period, according to certification and maintenance requirements.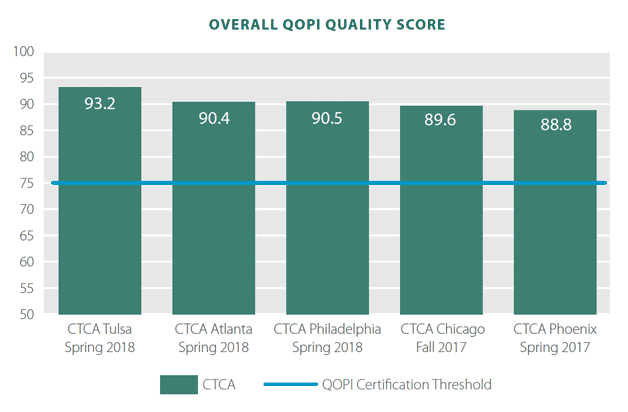 The following select key quality metrics shared below reflect the performance of CTCA hospitals in aggregate.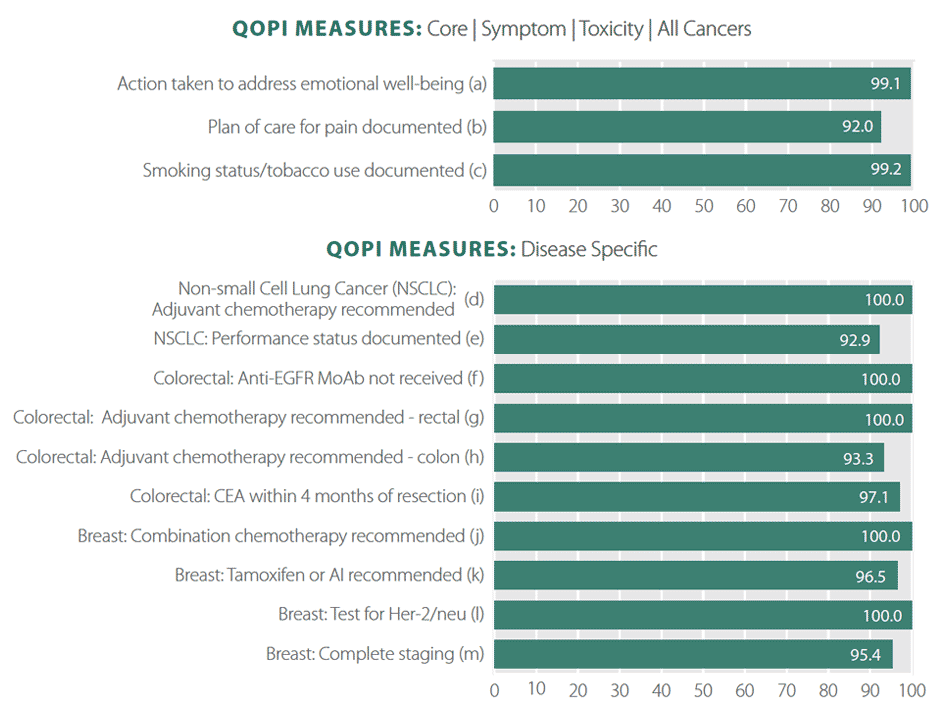 | Key | Description |
| --- | --- |
| a | Action taken to address problems with emotional well-being by the second office visit |
| b | Plan of care for moderate/severe pain documented on either of the two most recent office visits |
| c | Smoking status/tobacco use documented in the past year |
| d | Adjuvant chemotherapy recommended for patients with American Joint Committee on Cancer (AJCC) stage II or IIIA NSCLC |
| e | Performance status documented for patients with initial Adjuvant chemotherapy recommended AJCC stage IV or distant metastatic NSCLC |
| f | Anti-EGFR MoAb therapy not received by patients with KRAS and NRAS mutation |
| g | Adjuvant antineoplastic treatment recommended within 9 months of diagnosis for patients with AJCC stage II or III rectal cancer |
| h | Adjuvant antineoplastic treatment recommended within 4 months of diagnosis for patients with AJCC stage III colon cancer |
| i | CEA within 4 months of curative resection for colorectal cancer |
| j | Combination chemotherapy recommended within 4 months of diagnosis for women under 70 with AJCC stage IA (T1c) and IB-III ER/PR negative breast cancer |
| k | Tamoxifen or AI recommended within 1 year of diagnosis for patients with AJCC stage IA (T1c) and 1B - III ER or PR positive breast cancer |
| l | Test for Her-2/neu overexpression or gene amplification |
| m | Complete staging for women with invasive breast cancer (cancer stage, HER2 and ER/PR status) |
Project-specific metrics
This measure is intended to capture that all patients prescribed chemotherapy via any route understand the intent of that therapy and that curative, adjuvant or disease control is documented.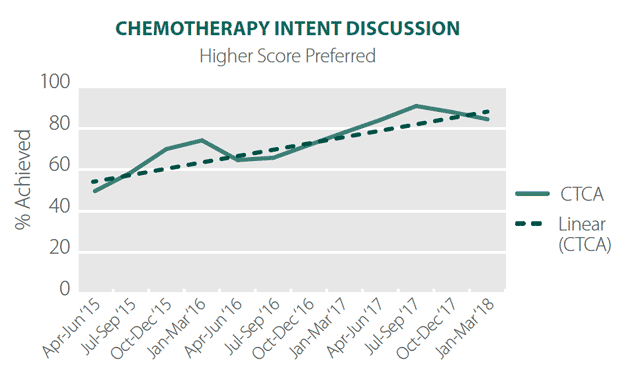 As the use of oral chemotherapy increases so does the need to routinely assess patient adherence following the start of therapy and toxicity. This includes clear documentation of the review of the regimen drug, dose, schedule and tolerance with the patient.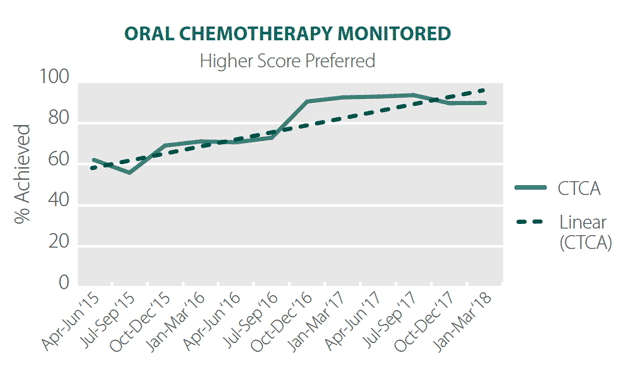 For those patients of child-bearing potential and who have not undergone treatment previously, it is important to discuss the effects of chemotherapy on fertility prior to the administration. Related conversation regarding preservation options should also occur.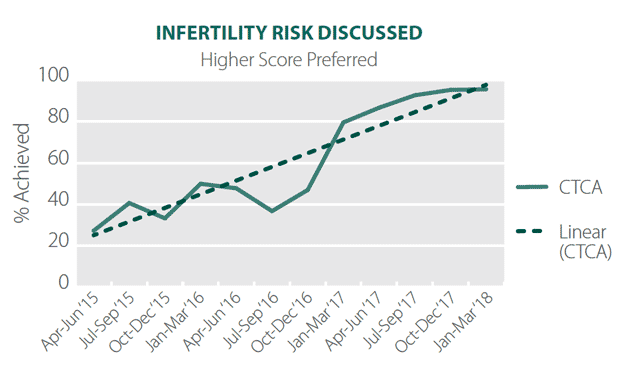 When appropriate, a patient may be referred to hospice. This measure is intended to ensure appropriate discussion occurs on a timely basis to facilitate the benefits of such enrollment.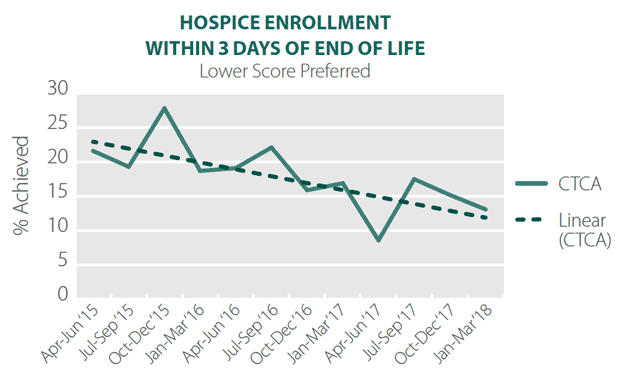 Including all forms of chemotherapy, this measure is intended to address quality of life concerns for patients at the end of life when aggressive treatment is no longer appropriate.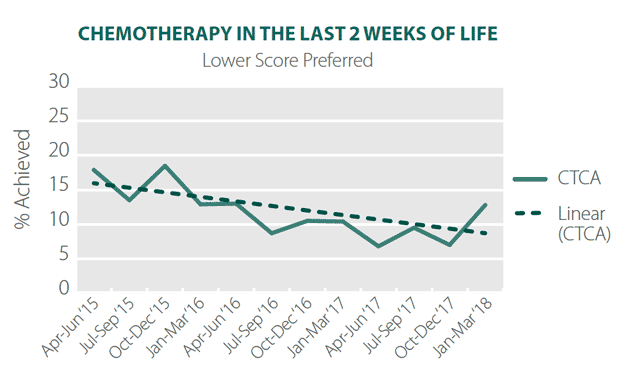 MACRA quality measure performance
MACRA Reporting
The 2015 Medicare Access and CHIP Reauthorization Act (MACRA) established a quality program that incentivizes clinicians for providing high-value care. The program became operational in calendar year 2017. Deemed a transition year, CTCA participated in the program by submitting the maximum number of metrics reportable. Performance is shown below in aggregate for CTCA in comparison to its selected federallyapproved Qualified Clinical Data Registry (QCDR). The Physician Compare website (https://www.medicare.gov/physiciancompare) will eventually make MACRA data public.