---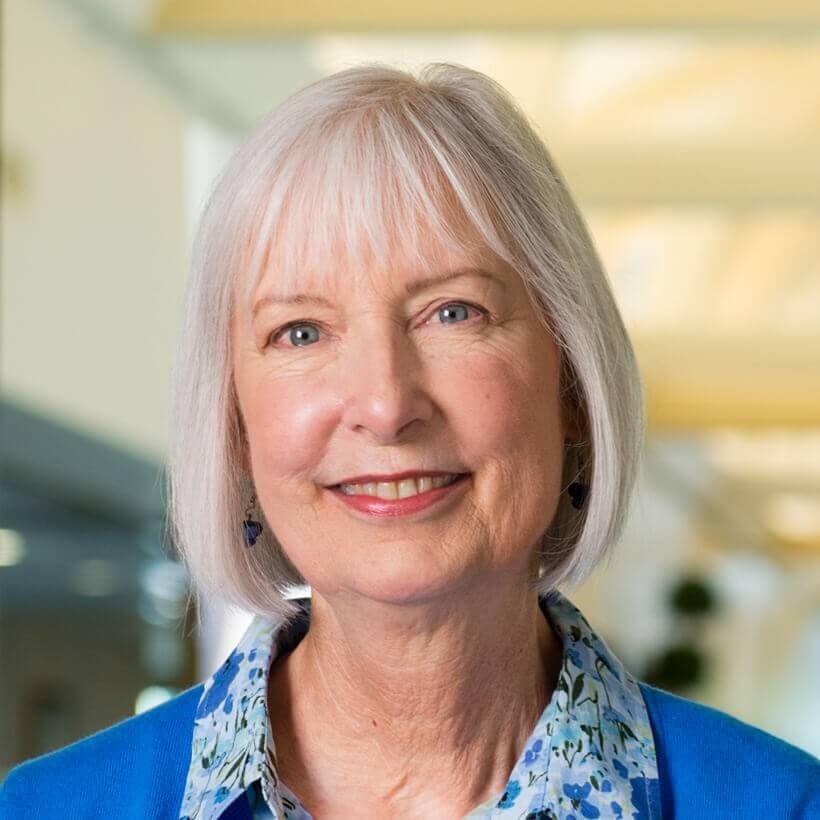 I think, over the years, my husband Holt and I have learned to appreciate each other more. Having shared these cancer experiences and going through the recoveries has made us stronger and more grateful for the love and compassion we have for each other. And I continue to thank God every day for sending me to CTCA.
Disclaimer
This testimonial includes a description of this patient's actual medical results. Those results may not be typical or expected for the particular disease type described in this testimonial. You should not expect to experience these results.
My cancer journey with Cancer Treatment Centers of America® (CTCA) began almost 13 years ago. I initially went to CTCA® because I liked the idea of nutritional counseling as part of my treatment for advanced lung cancer. I have remained with CTCA for all my treatment and checkups because I have total confidence in the quality of care I receive there and because they always offer me hope.
In March 1999, at the age of 51, I was diagnosed with inoperable non-small cell lung cancer, stage IIIB adenocarcinoma, in my left lung. I was shocked and terrified. I had smoked for many years but had quit in 1991. I couldn't believe I had lung cancer eight years later. I immediately began to research my options and look into facilities for treatment. I spoke with a friend who told me about CTCA, a cancer hospital where oncologists worked together with naturopaths and other treatment providers. My husband Holt Truex, who is a pediatrician, went online to learn more about CTCA. He also called and spoke with Sharon, an Oncology Information Specialist at the CTCA hospital in Tulsa, Oklahoma. CTCA was able to verify that my insurance was approved and that I could be treated there. They also handled arrangements for plane tickets and doctors' appointments for my first trip to CTCA.
When I arrived at the hospital in Tulsa, I had tests done. Thank goodness they showed the cancer had not spread anywhere else. I started treatment immediately—external beam radiation twice a day and low-dose chemotherapy once a week to enhance the radiation. My joints hurt from the cancer, and I was so fatigued from the radiation treatment that I pretty much wanted to sleep all the time. But it was OK. I had no responsibilities other than to get well. Meals were provided and my dear husband did everything else, including laundry. All I absolutely had to do was go to meals, radiation treatments, chemotherapy, and doctors' appointments. Optional activities I worked in between naps included going to classes on nutrition, naturopathy, stress management and humor therapy. I kept my friends and family posted via e-mail, and at Holt's urging, kept taking my daily walks. Once I got moving, my joints felt better, and I believe staying active contributed to my recovery. Keeping up with my vitamins also helped. It was a full schedule, but all focused on my recovery. I can't imagine what life would have been like if I had stayed at home, trying to deal with meals, laundry and dogs, all in addition to traveling 60 miles round trip every day to the treatment center nearest to my home in Española, New Mexico. Being at CTCA was much better.
We were in Tulsa for seven weeks for tests and treatment. After that, we went back for chemo one week a month for five months. By my last round of chemo in October 1999, my CEA tumor marker was in the normal range (1.5, down from 66 in March) and my tumor had shrunk down to 2.5 cm. Six months later, my tumor was gone! It had shrunk away to a scar. My life was returning to normal.
Returning to CTCA 10 years later for another fight
My second cancer diagnosis came in September 2009, more than a decade later. At an annual checkup, doctors discovered I had a second primary lung cancer. It was a stage IA adenocarcinoma in the other lung. The tumor was small, 1.6 cm, but because of its location on the border between two lobes of my right lung, it was still inoperable.
With surgery not an option, I was offered radiation therapy. And because of my previous history with cancer, my doctors at CTCA felt I should have chemotherapy again, as well. So that fall I went through seven weeks of TomoTherapy®, a targeted form of radiation that had come along since my previous lung cancer, and which did not cause me fatigue. I also had concurrent low-dose Taxol® and carboplatin, the same chemo drugs I received in 1999, to enhance the effects of the radiation. Overall I felt pretty good as I received treatment this time, except for a couple of times when my white blood cell count went too low and I had to wait for Neupogen® shots to boost it back up before I could continue treatment.
I stayed onsite in the hospital's outpatient housing for a total of 10 weeks. My husband stayed with me much of the time. When he needed to be home for work, a series of girlfriends came to stay with me for a few days at a time. We had fun during their visits, working my treatments and doctors' appointments in between trips to the mall and walks around the hospital grounds.
About a month after I completed radiation, I went back to Tulsa to begin my full-dose chemotherapy treatments. That was a different story. I had four cycles of Taxol/cisplatin, once every three weeks, followed by one cycle of Alimta® for maintenance. The treatments wiped me out. I would see my doctors one day, have chemotherapy for six hours the next day, and fly home the day after that. The next day I would wake up at home feeling the full effects of the chemotherapy—exhaustion, headache, some nausea (but no vomiting). This was by far the hardest part of both my fights against lung cancer. But by the second day at home, I would feel a little better, and I would just be tired and rest for about another week. After that I felt pretty much back to normal—able to shop, cook, clean and walk dogs—until I went back a couple of weeks later to repeat the cycle.
Dealing with the side effects of treatment
As expected, I lost my hair (again!) about two weeks after I started full-dose chemo. I talked to a practitioner in the onsite Lily Bella Spa at CTCA when I went back for my next chemo treatment about a week later, and she showed me the perfect wig. It looked a lot like my hair color (gray) and style, only much nicer. So I got it. The practitioner trimmed it a little to suit my face. Just putting it on really did make me feel better.
I developed peripheral neuropathy in my feet from my second bout with cancer treatment. It still bothers me a bit, but it's manageable. The naturopathic medicine team recommended a number of supplements to prevent and reduce the neuropathy, and I'm currently taking one called N-acetyl cysteine, which helps a lot. I also worked with the hospital's physical therapy team, and I had acupuncture treatments at the hospital, too.
The most difficult side effect of cancer treatment my second time around was emotional. I was terrified of being switched from the familiar carboplatin, which I had become allergic to, to the unfamiliar cisplatin, which is supposed to have much harsher side effects. My medical oncologist helped me address some of my fears by starting the cisplatin at a lower dose and increasing it a little with each subsequent cycle. He also gave me six days of the anti-nausea medicine Emend® instead of the usual three. Both Emend and the gradually increased dose of cisplatin seem to help lessen the side effects. I was also helped tremendously by a psychologist in the Mind-Body Medicine Department at the hospital, who has been with me since 1999. The only time I cried with either lung cancer was on my way to the Infusion Center for the first round of cisplatin. That was the emotional low of my journey, and my psychologist helped me deal with it using, in part, visualization based on Psalm 91.
I finished treatment in March of 2010 and went on a three-month checkup schedule. Everything has been stable since then, thank goodness, and in November of 2011, I graduated to six-month checkups.
My team and old friends
Every return visit to CTCA feels like a big reunion with long-lost friends. Most of the staff and most of my doctors have been with me since 1999, including Dr. Nader, an interventional pulmonologist, and his nurse Sue, who managed the diagnosis phase of my second lung cancer. They are fantastic, as are my medical oncologist and my radiation oncologist, Dr. Flynn. I am blessed to have such a skilled, caring and supportive team.
Of course my husband, Holt, was and is my main support. He has been by my side at almost every doctor's appointment, scan and treatment. His care, love and concern mean everything to me. And the doctors and staff at CTCA also treat him as a very important member of my team. He goes with me everywhere, except when radiation is involved.
My life today
I am blessed to have had a complete recovery from both of my lung cancers, due in part, I believe, to the reasonably healthy lifestyle I try to follow. Encouraged by my team at CTCA, I eat a mostly plant-based, mostly organic diet with an emphasis on vegetables. I typically make veggie smoothies twice a day. And I try to stay active, walking dogs, going on hikes with Holt and exercising regularly.
My life returned to normal, only better and fuller, both times after cancer treatment. I started doing watercolor painting, taking singing lessons and getting involved in my church as a direct result of my first lung cancer and my counseling with my psychologist. I continue to do those things, even though I was diagnosed with a paralyzed vocal cord in 2009, which makes it difficult for me to sing. But I'm still a member of the Spanish choir in my church, only now I play percussion instruments.
A few of the milestones I've reached in recent years include traveling to Costa Rica in 2009 before my second cancer diagnosis and to Italy in 2006 with girlfriends. These girlfriends visited me during my treatment, and celebrating our enduring friendships since junior high school and all of our 60th birthdays together was very special.
I've spoken with several hundred cancer patients over the years through my volunteer activities with various support groups and initiatives, including the Bloch Cancer Hotline, the Lung Cancer Alliance and the CTCA Patient-to-Patient Network. It's been very rewarding. I also volunteer a few days a month with the American Cancer Society at the local cancer treatment facility in Gallup. I am able to offer cost-free wigs, breast prostheses, scarves, literature, support and encouragement to others who are going through cancer treatment.
I think, over the years, Holt and I have learned to appreciate each other more. Having shared these cancer experiences and going through the recoveries has made us stronger and more grateful for the love and compassion we have for each other.
And I continue to thank God every day for sending me to CTCA.
Cancer:
Diagnosed:
1999